On 11 June, 2015, Take Back the Tech Bangladesh team visited Adamjee Cantontment College, Dhaka for a campus awareness on combating violence against women by using information and communication technology (ICT). This was the largest gathering in any TBTT programme in Bangladesh. Around 500 students participated in this event. Teachers of Adamjee Cantontment College were also present. The programme was organized by ACC ICT Club and supported by Bytes for all Bangladesh and Bangladesh Open Source Network (BdOSN).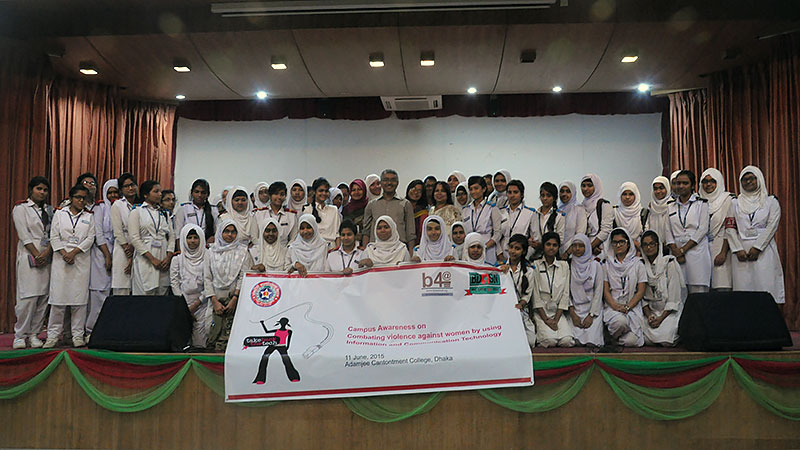 Ms Zakia Sultana, Assistant Professor of the college welcome the students in the event. Mr Munir Hasan,General Secretary of BdOSN in his opening remarks introduced the students with "Take Back the Tech (TBTT)".  He remind that ICT could be used effectifely to cmbat traditional violence against women by documenting and processing. However, ICT itself introdue new types of hassaement to the women. The good news of ICT is that this could be used in the same manner to protect women in this cases.  Ms Sajia Afreen Smita, Coordinator of Take Back the Tech Bangladesh in her main presentation aware the participants with key tools and techniques to be safe in Internet, especially in facebook. Students got the chance to learn ICT application techniques to fight and raise mass awareness against online harassment. They also learned how to maintain privacy and online security while using social networks and communicate through e-mails.
At the end of the seminar, discussion session took place where girls asked various questions around the topic and the speakers answered with possible remedies. Sajia Afreen Smita added that they have planning of arranging such programs in other institutions as well as workshops for girls regarding techniques of being safe in internet. Students were asked to write down their bitter experiences regarding the issue. The activity was done to document online harassment incidents in Bangladesh.